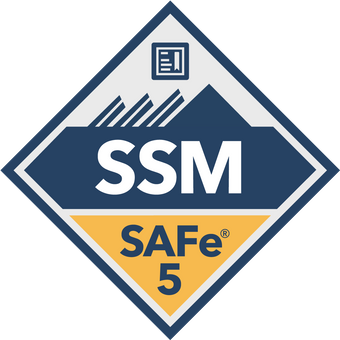 Applying the Scrum Master role within a SAFe® enterprise
with Certified SAFe® Scrum Master
In this course, attendees gain an understanding of the role of a Scrum Master in a SAFe enterprise. Unlike traditional Scrum Master training that focuses on the fundamentals of team-level Scrum, the SAFe Scrum Master course explores the role of the Scrum Master in the context of the entire enterprise, and prepares attendees to successfully plan and execute the Program Increment (PI), the primary enabler of alignment throughout all levels of a SAFe organization. This includes learning the key components of Agile at scale development, how Scrum is facilitated throughout the enterprise, and how to execute Iteration Planning.
Attendees discover how to build high performing Agile teams by becoming a servant leader and coach, and how to coach those teams to deliver the maximum business value at scale. SAFe 5 Scrum Master (SSM) certification signifies that people are prepared to perform the role of Scrum Master in a SAFe environment, increasing their value to teams and organizations that are implementing SAFe.
Attendees must attend both days of the course in order to be eligible for the exam.
All are welcome to attend the course, regardless of experience. However, the following prerequisites are highly recommended:
Exam & Certification Details
The first step toward becoming an Certified SAFe® Scrum Master is to attend the SAFe® Scrum Master course. This is a requirement, because attending the course provides access to all the study materials and the exam. Note that attending the course does not guarantee passing the exam.
The exam is designed to measure knowledge and skill related to the job role. We highly recommend candidates use a variety of resources to prepare for this exam including:
Becoming a Certified SAFe® Scrum Master requires an exceptional range of skills and is a career path for many Scrum Masters. Certification includes: