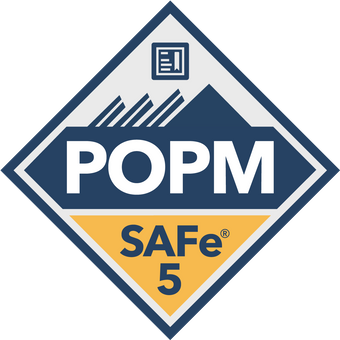 SAFe Product Owner / Product Manager
Delivering value through effective Program Increment execution
with Certified SAFe® Product Owner / Product Manager
About SAFe Product Owner / Product Manager
Develop the skillsets needed to guide the delivery of value in a Lean enterprise by becoming a SAFe® 5 Product Owner/Product Manager (POPM). During this two-day course, attendees gain an in-depth understanding of how to effectively perform their role in the Agile Release Train (ART) as it delivers value through Program Increments.
Attendees explore how to apply Lean thinking to decompose Epics into Features and Stories, refine Features and Stories, manage Program and Team backlogs, and to plan and execute Iterations and Program Increments. Attendees also discover how the Continuous Delivery Pipeline and DevOps culture contribute to the relentless improvement of the ART.
Attendees must attend both days of the course in order to be eligible for the exam.
All are welcome to attend the course, regardless of experience. However, the following prerequisites are highly recommended:
Exam & Certification Details
The first step toward becoming a Certified SAFe® Product Owner/Product Manager is to attend the SAFe® Product Owner/Product Manager course. This is a requirement, because attending the course provides access to all the study materials and the exam. Note that attending the course does not guarantee passing the exam.
The exam is designed to measure knowledge and skill related to the job role. We highly recommend candidates use a variety of resources to prepare for this exam including:
Becoming a Certified SAFe® Product Owner/Product Manager requires an exceptional range of skills and is a career path for many servant leaders. Certification includes: