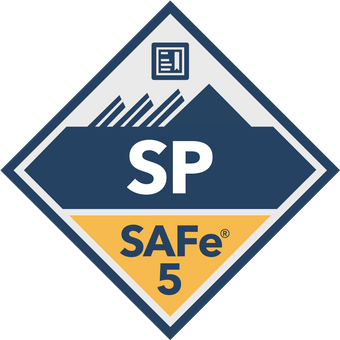 Establishing Team Agility for Agile Release Trains
with Certified SAFe® Practitioner
Build the skills needed to become a high-performing team member of an Agile Release Train (ART)—and learn how to collaborate effectively with other teams—by becoming a SAFe® 5 Practitioner.
During this two-day course, gain an in-depth understanding of the ART, how it delivers value, and what you can do to effectively perform your role using Scrum, Kanban, and XP. Learn how to write stories and break down features, plan and execute iterations, and plan Program Increments. Finally, learn about the continuous delivery pipeline and DevOps culture, how to effectively integrate with other teams in the program, and what it takes to continuously improve the train.
Attendees must attend both days of the course in order to be eligible for the exam.
All are welcome to attend the course, regardless of experience.
However, the following prerequisites are highly recommended:
Exam & Certification Details
The first step toward becoming a Certified SAFe professional is to attend the SAFe® for Teams course. This is a requirement, because attending the course provides access to all the study materials and the exam. Note that attending the course does not guarantee passing the exam.
The exam is designed to measure knowledge and skill related to the job role. We highly recommend candidates use a variety of resources to prepare for this exam including:
Becoming a Certified SAFe® Practitioner requires an exceptional range of skills and is a career path for many servant leaders. Certification includes: