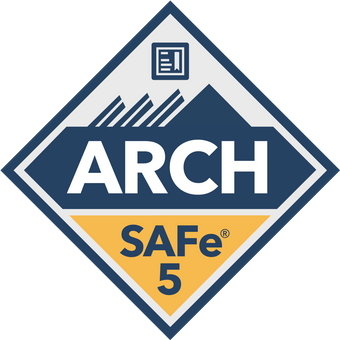 Architecting for continuous value flow with SAFe®
with Certified SAFe® Architect
About SAFe for Architects
Attendees can improve collaboration and alignment in a SAFe® Lean-Agile enterprise when they become a SAFe 5 Architect. The SAFe® for Architects course prepares System, Solution, and Enterprise Architects to engage across the organization as effective leaders and change agents who collaboratively deliver architectural solutions.
During this three-day course, attendees will explore the roles, responsibilities, and mindset of Agile Architects, and appreciate how to align architecture with business value and drive continuous flow to large systems-of-systems while supporting SAFe program execution.
This course is for senior technical contributors who need to understand the role of System, Solution, and Enterprise Architects in Lean-Agile enterprises. The course is also appropriate for individuals desiring a deeper view into how architecture enables continuous value flow and how architects engage in, and contribute to, a Lean-Agile enterprise.
The following prerequisites are highly recommended:
Exam & Certification Details
The first step toward becoming a certified SAFe professional is to attend the SAFe® for Architects course This is a requirement, because attending the course provides access to all the study materials and the exam. Note that attending the course does not guarantee passing the exam.
The exam is designed to measure knowledge and skill related to the job role. We highly recommend candidates use a variety of resources to prepare for this exam including:
Becoming a Certified SAFe® Architect requires an exceptional range of skills and is a career path for many servant leaders. Certification includes: