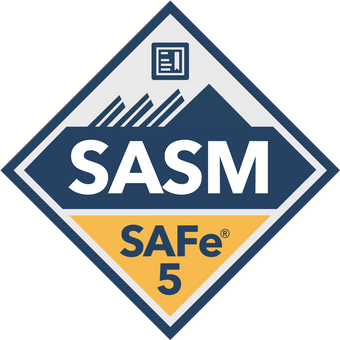 SAFe Advanced Scrum Master
Advancing Scrum Master servant leadership with the Scaled Agile Framework®
with Certified SAFe® Advanced Scrum Master
About SAFe Advanced Scrum Master
This course prepares current Scrum Masters for their leadership role in facilitating Agile team, program, and enterprise success in a Scaled Agile Framework (SAFe®) implementation.
The course covers facilitation of cross-team interactions in support of program execution and relentless improvement. It enhances the Scrum paradigm with an introduction to scalable engineering and DevOps practices, the application of Kanban to facilitate the flow of value, and supporting interactions with architects, product management, and other critical stakeholders in the larger program and enterprise contexts. The course also offers actionable tools for building high-performing teams and explores practical ways of addressing Agile and Scrum anti-patterns in the enterprise.
Attendees must attend both days of the course in order to be eligible for the exam.
All are welcome to attend the course, regardless of experience.
However, having one or more of the following certifications is highly recommended for those who intend to take the SAFe® 5 Advanced Scrum Master (SASM) certification exam:
Exam & Certification Details
The first step toward becoming a Certified SAFe® Advanced Scrum Master is to attend the SAFe® Advanced Scrum Master course. This is a requirement, because attending the course provides access to all the study materials and the exam. Note that attending the course does not guarantee passing the exam.
The exam is designed to measure knowledge and skill related to the job role. We highly recommend candidates use a variety of resources to prepare for this exam including:
Becoming a Certified SAFe Advanced Scrum Master requires an exceptional range of skills and is a career path for many scrum masters. Certification includes: